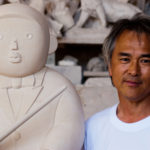 Kyoung Jae Lee: A harmonious canon of delicate beauty
The harmony of the shapes that Kyoung Jae Lee gives to his characters is the most distinctive trait of the Korean artist's sculptural language. It is a gift that the artist does not only to the spectator but also to the subject.
Kyoung Jae Lee arrives in Italy at the beginning of the Nineties to open his artistic research to the experimentation of marble and, once acquired the mastery of technique, matures a language of sweet dreamy synthesis: sculpts human figures from the majestic Roundness, with few and essential traits, sufficient to humanize the matter and to give it a sense of delicate beauty.
This is the canon that is repeated, without ever becoming a "single tone", to form a unique, absolutely harmonious choir.
(Fiammetta Galleni)