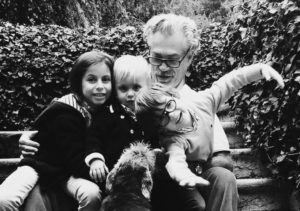 Sculptor and painter
Born in Milan in 1959, he is the son of Italian father and mother Switzerland. Strongly attracted by all forms of art, at a young age devotes himself to painting, encouraged by experts and critics such as Oreste Marini, Gustavo predaval. Interested in sculpture, still a student at the art school, he spends a period in Paris, in the study of Emile Gilioli, French-Italian sculptor of international renown. After attending the art school, he enrolled at the IUAV University in Venice, where he studied architecture. He graduated from the Politecnico di Milano in architecture. Giò di Busca works as an architect and multifaceted artist, for commissions and prestigious companies in Italy and abroad, but it is only with sculpture and painting that he realizes his artistic passion, his reason for life, his genius and his love for beauty. His work fuses radically opposing cultures, and relates to nature, to music, but also to ancient and modern technology. The continuous studies and the incessant research are aimed at creating a new aesthetic code, a project in tribute and defense of beauty, with a decisive refusal of the type-approval. The exceptional diversity of the works includes sculptures made of bronze and stainless steel, oil paintings and drawings. Giò di Busca lives and works in Switzerland, in the Canton of Ticino.
Exhibitions:
2017: Museum "Il Correggio", Palace of the princes, Correggio "Giò di Busca. The rediscovered Beauty ", October 14 – December 10 | European Cultural Centre, Palazzo Mora, Venice "Personal Structures – Open borders", 13 May – 26 November.
2016: Municipality of Santa Margherita Ligure and Portofino, "Gio di Busca-Mostra diffused", 29 July-20 September.
2015: Galleria Ferruzzi, Venice "Giò di Busca", 1 May – 31 October | Gallery of the Biblioteca Angelica, Rome "Giò di Busca", 21 February – 7 March | Gallery Art Dynasty, Forte dei Marmi "Art & Jewelry", 7 December – 28 February | Royal Opera Arcade (ROA) Gallery, London "Sculpture & Ceramics Exhibition", 19 October – 24 October
2014: Hôtel du Département, Bastia "Giò di Busca", 13 June – 31 July | Mazzoleni Art Gallery, Forte Village, Pula (Cagliari) "Summer Art 2014", 1 July – 30 August
2012: Finter Bank Zurich, Lugano "Giò di Busca", 1 June – 3 August